Ziggurat-class Phase Vessel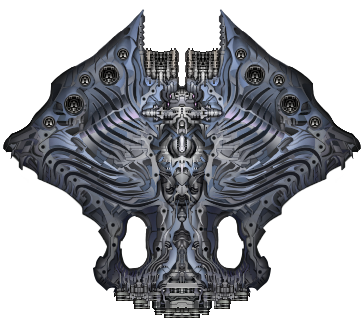 Logistical Data
| | |
| --- | --- |
| Recovery rate (per day) | 3% |
| | |
| --- | --- |
| Maintenance (sup/month) | 75 |
Combat Performance
Mounts
2x Large Energy
4x Medium Universal
6x Small Synergy
Advanced Stats
| | |
| --- | --- |
| Recovery cost (supplies) | 75 |
| | |
| --- | --- |
| Peak performance (sec) | 600 |
| | |
| --- | --- |
| Cloak activation cost | 320 |
A plaque on the bridge declares this ship class to be the result of "Project Ziggurat". It appears to be built on technology created in a Tri-Tachyon prototype lab unknown to the Persean Sector at-large. In addition to advanced conventional loadout, there are certain one-off components of exotic manufacture - it is possible to reverse-engineer undamaged examples and produce replacements, but the underlying operating principles do not resemble any known Domain technology and thus remain a mystery.

The Ziggurat-class ship once had a human crew; or, at least, was intended to be crewed by humans. No sign of them remains as physical evidence or in databanks. Even the cleanest Hegemony warship will have some initials and a rude word or two about the CO scratched behind a maintenance hatch. Here, nothing.

–In-Game Description
The Ziggurat is a unique phase capital ship encountered at the Alpha Site as part of the Project Ziggurat quest, where it is an extremely dangerous enemy. After defeating it, the ship can be recovered in a somewhat weaker form for player use. Its default name is "TTS Xenorphica".
As the Ziggurat is a unique, distinctive ship, while it is in the player fleet other fleets will always recognize the player even with the transponder disabled.
Alpha Site can be visited at any time, regardless if you're doing the quest or not. All you need is the Transverse Jump ability. The location is usually to the north-east of Hybrasil, appearing as a nascent gravity well.

Up to date for version 0.95