Wayfarer-class Combat Freighter

Logistical Data
| | |
| --- | --- |
| Recovery rate (per day) | 8% |
| | |
| --- | --- |
| Maintenance (sup/month) | 5.0 |
Combat Performance
Mounts
2x Small Hybrid
2x Small Ballistic
2x Small Universal
Advanced Stats
| | |
| --- | --- |
| Recovery cost (supplies) | 5 |
| | |
| --- | --- |
| Peak performance (sec) | 240 |
With respectable armour and armament for a heavy frigate, the Wayfarer does not cut close the ruthless economy that would suite it for bulk trade on the dedicated lanes where safety is guaranteed by civilized locale (or, at least, an armed escort). No, the Wayfarer is a starship for the lonely runs on the frontier, between worlds where the tough law of necessity reigns, where brigands roam, and the crossed arcs of one's own gun turrets are the best comfort to be found in the cold reach of space.

–In-Game Description
Overview
[
]
The Wayfarer is a frigate-sized combat freighter. In the current version its blueprint doesn't drop from any location but it is relatively common.
Because of its large cargo hold - best among frigates by a quite large margin - and lack of Civilian-grade Hull sensor profile penalty it makes a great entry ship for smuggling.
Combat-wise like all midline ships it comes with respectable 0.8 flux/damage shields, acceptable hull/armor and six small mounts: two ballistic facing forward, two hybrid facing sideways and two universal facing rear-left and rear-right. While inteded more for point defense, if positioned correctly it can bring up to three of them to bear on one target as the firing arc of the two front facing turrets overlap with one of the side ones. The rear-facing universal mounts can then be used for guided missiles for even more firepower.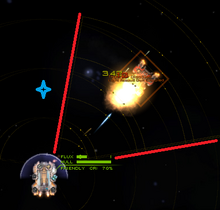 Only up to date for version 0.95. It is likely still broadly correct but not verified for the most up to date data yet. Please double check the Version History.