Wayfarer-class Combat Freighter

Logistical Data
| | |
| --- | --- |
| Recovery rate (per day) | 8% |
| | |
| --- | --- |
| Maintenance (sup/month) | 5.0 |
Combat Performance
Mounts
2x Small Hybrid
2x Small Ballistic
2x Small Universal
Advanced Stats
| | |
| --- | --- |
| Recovery cost (supplies) | 5 |
| | |
| --- | --- |
| Peak performance (sec) | 240 |
With respectable armour and armament for a heavy frigate, the Wayfarer does not cut close the ruthless economy that would suite it for bulk trade on the dedicated lanes where safety is guaranteed by civilized locale (or, at least, an armed escort). No, the Wayfarer is a starship for the lonely runs on the frontier, between worlds where the tough law of necessity reigns, where brigands roam, and the crossed arcs of one's own gun turrets are the best comfort to be found in the cold reach of space.

–In-Game Description
Overview
[
]
The Wayfarer is a frigate-sized combat freighter with multiple small mounts and decent shields. In the current version, its blueprint doesn't drop from any location.
Notes
[
]
Wayfarer is a highly customisable platform that can perform a variety of different roles well but not all at the same time. A high skill ceiling provides ample rewards for experienced pilots & carefully considered loadouts.
Wayfarer has some initially deceptive triple converging arcs. This enables it to apply many useful combinations of damage types, such as Kinetic HE EMP or HE FRAG EMP. Please see the picture below where aiming the cursor at the blue marker brings the red arcs of the side EMP Cannon onto the target.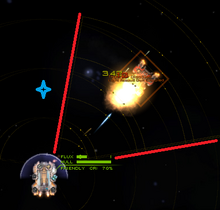 Up to date for version 0.95