Tesseract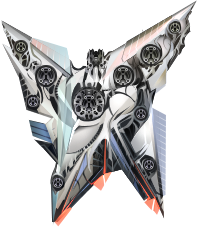 Logistical Data
| | |
| --- | --- |
| Recovery rate (per day) | 20% |
| | |
| --- | --- |
| Maintenance (sup/month) | 24 |
Combat Performance
Mounts
1x Large Universal
4x Medium Universal
6x Small Universal
Advanced Stats
| | |
| --- | --- |
| Recovery cost (supplies) | 24 |
| | |
| --- | --- |
| Peak performance (sec) | Unlimited |
"This is the largest of the anamolous vessel class thus far encountered. Not even a partial specimen has been recovered, much to the consternation of the VP of Research. Some members of the board - unofficially of course - are asking about sabotage or mutiny. I don't think you're quite getting the reality of the situation through to them."

–In-Game Description
The Tesseract is an extremely powerful Omega ship. Two can be found guarding each Coronal Hypershunt in the Sector, and one will appear alongside a strong Remnant fleet in a one-off bounty issued by contacts.
Like other Omega ships, the Tesseract carries the unique Omega weapons, which can be salvaged once it is defeated.
Once disabled, the Tesseract will split into a destroyer-sized Facet, two frigate-sized Dextral or Sinistral Shards, and three Aspects. Each sub-ship that splits from the Tesseract dynamically generates weaponry to counter what was closest to it when it activates.
Change History
[
]
0.95a

Only up to date for version 0.95. It is likely still broadly correct but not verified for the most up to date data yet. Please double check the Version History.