Tempest-class Frigate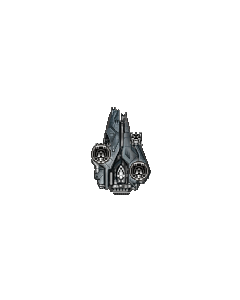 Logistical Data
| | |
| --- | --- |
| Recovery rate (per day) | 10% |
| | |
| --- | --- |
| Recovery cost (supplies) | 8 |
| | |
| --- | --- |
| Peak performance (sec) | 180 |
| | |
| --- | --- |
| Maintenance (sup/month) | 8.0 |
| | |
| --- | --- |
| Fuel per l.y. & jump cost | 1 |
Combat Performance
Mounts
1x Small Missile
2x Medium Energy
An asymmetric, advanced design from the late Expansion Epoch, the Tempest-class is the quintessential attack frigate - fast, deadly and difficult to destroy.

–In-Game Description
Fan Media
Edit
High Tech, Best Tech (Potential Spoilers)
Change History
Edit
0.9
Increased maintenance/deployment cost from 6 to 8
Replaced Active Flare Launcher with High Energy Focus
Terminator Drone built-in wing rework
0.8a
"Terminator" drone now a built-in fighter wing, 1 drone, uses AM blaster
Ship system is now "Active Flare Launcher"

Modified to have unlimited uses and slightly improved flare speed

Increased shield arc to 120 degrees (was 90)
Increased Terminator drone speed, now armed with Ion Pulser
Previous version Notes
Edit
The Tempest is a very high-performance frigate with exceptional speed and maneuverability, as well as a considerable amount of energy firepower and it's iconic built-in drone.
Some notable defense issues exist; the small shield arc should definitely be taken note of, as the arc is so narrow that it can leave the ship vulnerable to the proximity detonation of and subsequent area of effect of flak, and given their fragmentation damage type this can be especially devastating to hull hitpoints if your armour was worn down by earlier fights. "Dancing" missiles and shots from an angle can also be dangerous. Adding the Extended Shields hullmod where possible alleviates this problem significantly.
The second issue with the Tempests' defense is that point-defense weaponry requires sacrificing one of the two medium mounts (potentially compromising offensive power), and then only provides protection in a limited arc. The Active Flare Launcher ship system helps with this issue, and a Heavy Blaster provides sufficient single-mount firepower that the second mount could be spared for PD.
When seen it is usually equipped with a Pulse Laser, a Graviton Beam and one of the standard missile weapons. This loadout alone is usually sufficient, but since it has medium energy weapons it can also use more powerful weapons such as the Heavy Blaster, but this requires care (and is thus not recommended for AI-piloted Tempests) due to its high flux cost.

Loadout example
Edit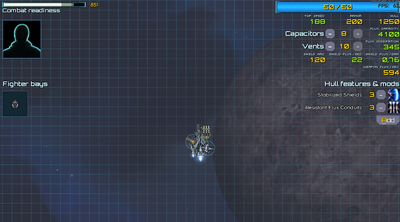 Weapons used by this loadout:
Weapon groups:
Harpoon MRM, linked, autofire disabled
Pulse Laser, linked, autofire enabled
Phase Lance, linked, autofire disabled
Hullmods:
Stabilized Shields, to decrease shield flux per second to minimum.
Resistant Flux Conduits, for faster venting and EMP resistance.
This loadout's purpose is low-risk general assault. From my experience, it works nicely when used by AI. When used by player, keep in mind that your system is Active Flare Launcher, it has relatively short cooldown, which allows you to use it often. I recommend using it for guided missile barrages that come at you. Tempest's speed allows it to dodge incoming unguided missiles and other projectiles. Your weapons:
It's also very useful against phase ships like Shade, because as long as you'll stay in drone's engagement range (1500 units), it will pursue said phase ship and will try to attack it, eventually crippling it by disabling its engines, which leaves that ship floating and vulnerable to any attack.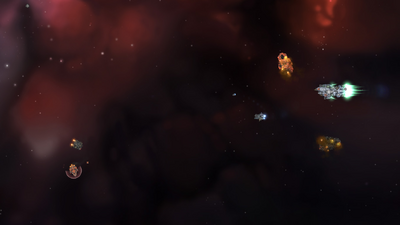 Only up to date for version 0.9. It is likely still broadly correct but not verified for the most up to date data yet. Please double check the
Version History
Community content is available under
CC-BY-SA
unless otherwise noted.