Tarsus-class Freighter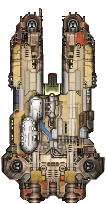 Logistical Data
| | |
| --- | --- |
| Recovery rate (per day) | 5% |
| | |
| --- | --- |
| Maintenance (sup/month) | 3.0 |
Combat Performance
| | |
| --- | --- |
| Mounts | 4x Small Ballistic |
Advanced Stats
| | |
| --- | --- |
| Recovery cost (supplies) | 3 |
| | |
| --- | --- |
| Peak performance (sec) | 420 |
Tarsus-class ships are well known as perhaps the most well put together and durable freighters in the Sector.

The secret to their reliability is that they were intended by Domain designers to be hazard duty ships, presumably built to be able to supply front line fleets in titanic conflicts which engulfed the stars of the Domain of Man.

Unmatched among non-combat ships in their bulkhead structural density and armor rating, Tarsus-class ships are entrusted with important hauls and usually travel in convoys, which is a further buttress to the safety they afford to their crew and cargo.

Minimal weapon mounts permit the ship to mount nominal PD weapons package. Rarely, Tarsus-class ships are outfitted with combat oriented hull or armor boosting modifications, which make them more difficult to maintain. Rarer still are the Condor-class conversion, which completely disassemble the Tarsus right cargo pylon to create a completely new class of ship and present a tactical surprise to the unwary.

–In-Game Description
Tarsus-class Freighter
Logistical Data
| | |
| --- | --- |
| Recovery rate (per day) | 5% |
| | |
| --- | --- |
| Maintenance (sup/month) | 3.0 |
Combat Performance
| | |
| --- | --- |
| Mounts | 4x Small Ballistic |
| | |
| --- | --- |
| Hull mods | Civilian-grade Hull |
Advanced Stats
| | |
| --- | --- |
| Recovery cost (supplies) | 2 (-1) |
| | |
| --- | --- |
| Peak performance (sec) | 420 |
Ships that would be decommissioned in quieter times now see widespread use throughout the Sector. The hull designation for such ships is usually tagged with a "D", for "damaged" or "defective".

Tarsus-class ships are well known as perhaps the most well put together and durable freighters in the Sector.

The secret to their reliability is that they were intended by Domain designers to be hazard duty ships, presumably built to be able to supply front line fleets in titanic conflicts which engulfed the stars of the Domain of Man.

Unmatched among non-combat ships in their bulkhead structural density and armor rating, Tarsus-class ships are entrusted with important hauls and usually travel in convoys, which is a further buttress to the safety they afford to their crew and cargo.

Minimal weapon mounts permit the ship to mount nominal PD weapons package. Rarely, Tarsus-class ships are outfitted with combat oriented hull or armor boosting modifications, which make them more difficult to maintain. Rarer still are the Condor-class conversion, which completely disassemble the Tarsus right cargo pylon to create a completely new class of ship and present a tactical surprise to the unwary.

–In-Game Description
Notes
[
]
Compared to Buffalo the Tarsus sacrifices a bit of cargo space for a lot more survivability - it has about 50% more EHP, up to four point defense turrets to reduce incoming damage even further and the Burn Drive system which increases its average speed over time to about 70. While not a combat freighter like Mule or Gemini it has a good chance to survive long enough to flee from combat.
Change History
[
]
0.95a
Increased cargo capacity to 350
Increased fuel use to 3/ly (was: 2)

Only up to date for version 0.95. It is likely still broadly correct but not verified for the most up to date data yet. Please double check the Version History.