Shrike-class Light Destroyer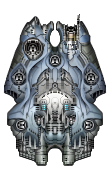 Logistical Data
| | |
| --- | --- |
| Recovery rate (per day) | 5% |
| | |
| --- | --- |
| Maintenance (sup/month) | 8 |
Combat Performance
Mounts
1x Medium Energy
1x Medium Missile
5x Small Energy
Advanced Stats
| | |
| --- | --- |
| Recovery cost (supplies) | 8 |
| | |
| --- | --- |
| Peak performance (sec) | 300 |
An advanced fast-attack light destroyer from the same design team as the near-ubiquitous Wolf, the Shrike's advanced propulsion system is designed to selectively vent plasma in a 'microburn' maneuver. This allows the Shrike to dart into tactical opportunities opportunities as they arise, strike, and escape before a proper counter-attack is mounted. Shields, armour, and sustained flux capacity are somewhat underwhelming due to the need to build a light yet economical hull which prioritizes attack speed, leading to the Shrike gaining the reputation as a glass cannon best entrusted to skilled captains.

Certain unique structural elements in the plasma venting system are known to, which wear, corrode in oxygen-rich atmospheres, so care must be taken to re-apply ceramopolymer coating at each hull servicing.

–In-Game Description
Shrike (P)-class Light Destroyer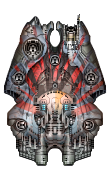 Logistical Data
| | |
| --- | --- |
| Recovery rate (per day) | 5% |
| | |
| --- | --- |
| Maintenance (sup/month) | 8.0 |
Combat Performance
Mounts
1x Small Hybrid
1x Medium Energy
1x Medium Missile
4x Small Energy
Advanced Stats
| | |
| --- | --- |
| Recovery cost (supplies) | 8 |
| | |
| --- | --- |
| Peak performance (sec) | 300 |
This ship has been heavily modified - and poorly maintained - by its pirate crew.

An advanced fast-attack light destroyer from the same design team as the near-ubiquitous Wolf, the Shrike's advanced propulsion system is designed to selectively vent plasma in a 'microburn' maneuver. This allows the Shrike to dart into tactical opportunities opportunities as they arise, strike, and escape before a proper counter-attack is mounted. Shields, armour, and sustained flux capacity are somewhat underwhelming due to the need to build a light yet economical hull which prioritizes attack speed, leading to the Shrike gaining the reputation as a glass cannon best entrusted to skilled captains.

Certain unique structural elements in the plasma venting system are known to, which wear, corrode in oxygen-rich atmospheres, so care must be taken to re-apply ceramopolymer coating at each hull servicing.

–In-Game Description
Overview
[
]
The Shrike is a fast, cheap destroyer.
The pirate version prior to 0.95a was generally considered superior despite losing 5 OP, as it can fit a Railgun for shield-breaking. Nowadays there's a 10 OP difference between the two versions.
Super "Frigate"
[
]
Since the Shrike has light armaments for a destroyer, high combat speed, and burn 10, it can be thought of more as a high powered Frigate than as a regular destroyer. As part of a burn 10 hunter pack the Shrike really shines: its 350 + 200 = 550 dissipation with vents allows it to mount a powerful Heavy Blaster, letting it bully small ships with raw DPS and crack the armor of any larger ship it flanks. Its medium missile can be tailored to the situation, but a Sabot pod is a good choice to pair with a heavy blaster, as it allows the Shrike to quickly overwhelm enemy shields before pounding the hull.
The Shrike is still valuable in slower fleets as a skirmisher that harasses the enemy, but don't expect it to be able to overwhelm full powered destroyers by itself. Its extended peak performance time compared to frigates lets it contribute in a similar role in larger battles without undue supply consumption.
The Bonk
[
]
A horrifyingly questionable tactic is to align this destroyer with an enemy frigate then engage the Plasma Burn system to propel forward at 622 speed for a short distance. This allows the Shrike to cause significant ramming damage, despite only having about the same mass as a heavy frigate.

Change History
[
]
0.95a
Shrike: increased OP to 85 (was: 80)
0.9.1a
Shrike:

Increased maximum burn to 10 (was: 9)
Reduced supply cost to deploy and per month to 8 (was: 9)

Added Shrike (P)

Small energy slot in the middle changed to hybrid
Ordnance points reduced by 5
Found in pirate fleets and the pirate blueprint package
Requires new campaign to show up in pirate fleets
0.9

Up to date for version 0.95