Shade-class Phase Frigate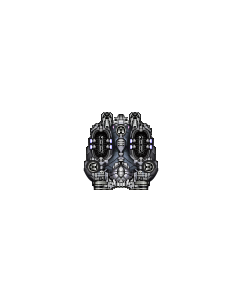 Logistical Data
| | |
| --- | --- |
| Recovery rate (per day) | 10% |
| | |
| --- | --- |
| Maintenance (sup/month) | 8.0 |
Combat Performance
Mounts
2x Small Universal
3x Small Energy
Advanced Stats
| | |
| --- | --- |
| Recovery cost (supplies) | 8 |
| | |
| --- | --- |
| Peak performance (sec) | 180 |
| | |
| --- | --- |
| Cloak activation cost | 125 |
The smallest phase ship that is currently produced in the Sector, the Shade-class is often used as a scout for larger fleets. In battle, it is valued by fleet admirals for its ability to disable enemy ships with its EMP Emitter.

–In-Game Description
Shade-class Phase Frigate

Logistical Data
| | |
| --- | --- |
| Recovery rate (per day) | 10% |
| | |
| --- | --- |
| Maintenance (sup/month) | 6 |
Combat Performance
Mounts
2x Small Universal
1x Small Energy
Advanced Stats
| | |
| --- | --- |
| Recovery cost (supplies) | 6 |
| | |
| --- | --- |
| Peak performance (sec) | 180 |
| | |
| --- | --- |
| Cloak activation cost | 125 |
After the Second AI War, much of the TriTachyon phase fleet was irreperably damaged or otherwise decommissioned due to treaty conditions. Many of these D-grade phase ships were sold to disreputable elements such as black marketeers and pirates who promptly put them back into service.

The smallest phase ship that is currently produced in the Sector, the Shade-class is often used as a scout for larger fleets. In battle, it is valued by fleet admirals for its ability to disable enemy ships with its EMP Emitter.

–In-Game Description
Overview
[
]
The Shade is a phase frigate with a powerful EMP Emitter ship system. Good knowledge of both these mechanics is recommended.

Example loadout

[

]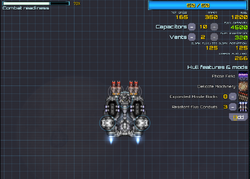 Weapons used by this Shade loadout:
Weapon groups:
Both Hammer-class Torpedoes, alternating, autofire disabled
Antimatter Blaster, linked, autofire disabled
Both Burst PD Lasers, linked, autofire enabled
This loadout is most effective when used right after using Shade's system (EMP Emitter).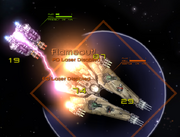 As you can see on this image, I used EMP Emitter to disable Falcon's engines and PD Lasers covering the engines. Then I used the Hammer-class Torpedoes and Antimatter Blaster to kill it. First 2 Hammers into engines. Then Antimatter Blaster shot while the Hammers reload. And then another 2 Hammers. I was a bit too close to exploding Falcon and killed both it and myself.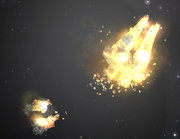 You may have few questions about this particular loadout:
Why Hammer-class Torpedoes and not Reaper-class Torpedoes?
Simple. You don't want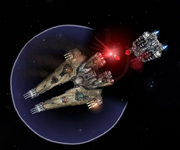 this to happen. Reapers have very short arming time, which can be problematic sometimes.
Another question is, why Burst PD Lasers? They are here to destroy missiles that may try to destroy you when you're in real space and used your EMP Emitter already. They also deal a bit of damage.
Why more capacitors than vents?
More capacitors allow you to use Phase Cloak for longer period of time without venting. Vents don't allow you to do so. Phase ships are very vulnerable when unphased, especially when venting flux.
Other useful information:
Resistant Flux Conduits are here to make you vent faster. It also gives 50% resistance to EMP damage, very important for phase ships.
Expanded Missile Racks allow you to take down more ships.
Consider using only Antimatter Blaster to destroy frigates. 1400 energy damage can cripple most frigates outright, or even kill them if they were damaged already.
EMP Emitter can be used to disable engines and weapons on enemy ships, sometimes even kill them when their hull is very low. It's very risky maneuver which may cause you to die.
EMP Emitter is very useful against missiles and fighters too. Sometimes it's better to use it in order to destroy incoming missiles / fighters and help your other ships.
Ship death explosion radius is roughly the shield radius plus 200su distance and damage broadly goes up with bigger ships. This is especially important for the Shade which has no shield to block the blast and often hunts bigger ships
Change History
[
]
0.95.1
Shade (P): reduced deployment and maintenance costs to 6 (was: 8)
0.8a
EMP ship system energy damage increased to 100 (from 25)
Up to date for version 0.95.1