Salvage Rig-class Auxiliary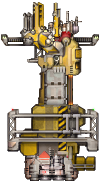 Logistical Data
| | |
| --- | --- |
| Recovery rate (per day) | 5% |
| | |
| --- | --- |
| Maintenance (sup/month) | 3.0 |
Combat Performance
Advanced Stats
| | |
| --- | --- |
| Recovery cost (supplies) | 3 |
| | |
| --- | --- |
| Peak performance (sec) | 360 |
Originally designed to assist in assembling large ships and orbital installations, the salvage rig's gantry and manipulators are used to assist in recovering derelict hulks and scavenging useful material from wreckage and debris fields. The rig itself has no cargo or fuel capacity and requires ample supply to maintain. Increases non-combat salvage gained, with more difficult operations being able to make use of more rigs.

–In-Game Description
Notes
[
]
As a Destroyer sized class the Salvage Rig receives a 25% salvage bonus from its Salvage Gantry, compared to the 10% salvage bonus on the Frigate sized Shepherd class.
To check how this bonus stacks mouse over the Salvage Gantry hullmod in the refit screen and hit F1.
The Salvage Rig practically demands other ships to provide for its logistical needs, with its zero capacity for cargo & unable to meet its own skeleton crew requirements.

Change History
[
]
0.9
Reworked salvaging mechanics
Increased OP from 12 to 16
0.8a
Construction Rig:

Renamed "Salvage Rig"; hullmod is "Salvage Gantry"
Increases base salvage from derelicts by 25% up to a fleetwide maximum equal to the salvage rating
Increases post-battle salvage by up to 10% based on the portion of the battle the Salvage Rig spent deployed
Salvage Gantry: removed bonus to salvage from being deployed in combat, wasn't working right design-wise

Up to date for version 0.95