Revenant-class Phase Tender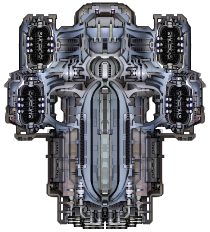 Logistical Data
| | |
| --- | --- |
| Recovery rate (per day) | 3% |
| | |
| --- | --- |
| Maintenance (sup/month) | 15 |
Combat Performance
Advanced Stats
| | |
| --- | --- |
| Recovery cost (supplies) | 15 |
| | |
| --- | --- |
| Peak performance (sec) | 420 |
| | |
| --- | --- |
| Cloak activation cost | 420 |
A stealth freighter which audaciously employs phase technology to support covert fleet operations, the Revenant is not cheap or efficient. Raised up from a dusty set of databanks hidden in an unnamed rock orbiting a nondescript star for a hundred cycles after the First AI War, the Revenant schematics provided an immense boon to the logistics of Tri-Tachyon raiders during the Second AI War.

Hegemony lawyers considered declaring the design illegal, but evidence of alpha-level AI influence was deemed insufficient. The lead prosecutor insisted so strongly that this was itself evidence of the work of an alpha that the High Hegemon found it politic to recuse them from the proceedings.

–In-Game Description
The Revenant is a specialized logistics phase ship, serving as both a fuel tanker and a freighter at the same time, but does not possess any weapon mounts. Its Phase Field allows it to operate as part of a phase fleet without compromising the fleet's sensor profile. As mentioned in its description, the Revenant is not an efficient replacement for proper tankers or freight ships.

0.95a

Up to date for version 0.95
Community content is available under
CC-BY-SA
unless otherwise noted.