Radiant-class Drone Battleship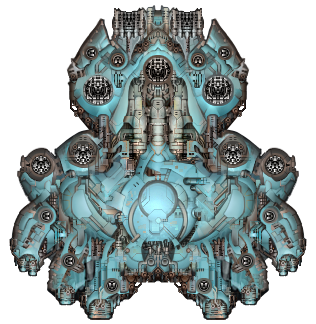 Logistical Data
| | |
| --- | --- |
| Recovery rate (per day) | 3% |
| | |
| --- | --- |
| Maintenance (sup/month) | 40 |
Combat Performance
Mounts
2x Large Synergy
3x Large Energy
4x Medium Synergy
10x Small Energy
Advanced Stats
| | |
| --- | --- |
| Recovery cost (supplies) | 40 |
| | |
| --- | --- |
| Peak performance (sec) | 720 |
A remnant of the autonomous AI fleets developed by the TriTachyon Corporation. Illegal under Domain (and Hegemony) law, and an abomination to the Church of Galactic Redemption, the First AI War saw these creations purged from the Sector. At least that is how the official histories tell it.

The Radiant battleship was an outrageous blue-sky design created by some naval architecture unit given special indulgence by a TriTach VP's bloated grandiosity. Both the official and existing unofficial histories of the First AI War never mention this class of ship ever being produced because an integrated phase skimmer could never be stable on a ship of such size. Surely it would explode into an infinity of curiously whorled short-lived child-dimensions upon initiation of the first skip.

Nonetheless, here it is.

–In-Game Description
The Radiant is a rare, powerful Remnant battleship. They are normally only found commanding Remnant Ordos, the largest battle fleets of the Remnants, in systems with red beacons. Like all Remnant ships, it is unboardable and hidden in the Codex (Its information can still be seen by engaging an Ordo and pressing F1 while hovering the mouse on top of it).
0.9a

Only up to date for version 0.9. It is likely still broadly correct but not verified for the most up to date data yet. Please double check the Version History
Community content is available under
CC-BY-SA
unless otherwise noted.