Prometheus Mk.II-class Modified Tanker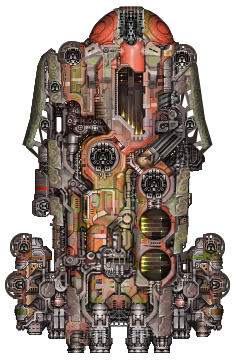 Logistical Data
| | |
| --- | --- |
| Recovery rate (per day) | 2% |
| | |
| --- | --- |
| Maintenance (sup/month) | 30 |
Combat Performance
Mounts
1x Large Missile
2x Large Hybrid
2x Medium Ballistic
8x Small Ballistic
2x Fighter Bay
Advanced Stats
| | |
| --- | --- |
| Recovery cost (supplies) | 32 |
| | |
| --- | --- |
| Peak performance (sec) | 720 |
The fanatical Pathers have discovered an ironic sense of justice in converting the tanker which carries what they call 'Infernium' - AM fuel - into a hulking implement of holy war. Holding tanks and loading ports have been chopped apart and converted into hangars or gun mounts while sections of pumping rig have been torn off to be replaced with huge armor plates. The curved bow of the primary fuel tank has been cored and refit to spew barrages of missiles at those who serve Moloch that they may perhaps find absolution in blessed oblivion.

–In-Game Description
Overview
[
]
A bastardization of the original Prometheus hull, the Prometheus Mk.II substitutes all fuel-carrying capabilities for heavy armaments; once a carrier for the life-blood of interstellar civilization, now formed into a weapon of immense carnage. Major modifications to the original hull include a drastically reduced fuel capacity—from 2500 to 800—the addition of multiple new weapon mounts, and the replacement of the Flare Launcher system with the more robust Burn Drive.
Notes
[
]
While the Luddic Path head their fleets with the Prometheus Mk.II, the Pirates have their own civilian-capital turned deathbringer in the form of the Atlas Mk.II.

Change History
[
]
0.95.1a
Increased burn level to 7 (was: 6)
Reduced supply cost to 30 (was: 32)
Increased hull to 15000 (was: 11000)
Increased armor to 1500 (was: 1300)
Ordnance points increased to 240 (from: 220)
0.95a
Fighters now properly launch from launch bay visual locations
Cleaned up extraneous, unusable turrets present in hull file
0.9.1a
Added Prometheus Mk.II to Pather fleets
Prometheus Mk.II now marked as "Luddic Path" instead of "Low Tech"
Up to date for version 0.95.1