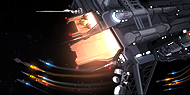 The requisite hangars, maintenance bays, command/control center, barracks, and logistics operations required to project force throughout a star system. Once established, militarized patrols will hunt pirates and protect friendly convoys.

–In-game description
The Patrol HQ industry is a cheap defensive structure that can be built at any Colony. It can be optionally upgraded to a Military Base, although this requires an industry slot.
+1 stability
Produces 2 light patrol fleets
4,000 * (population size - 2) * Colony hazard rating
0.9.1
Does not count as an "industry" and its upkeep does not depend on colony size
Fixed patrols at 2 small, does not change with colony size
0.9

Up to date for version 0.9.1
Community content is available under
CC-BY-SA
unless otherwise noted.