Odyssey-class Battlecruiser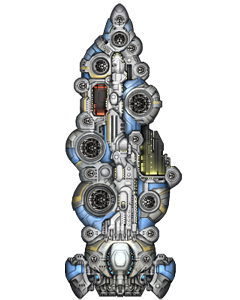 Logistical Data
| | |
| --- | --- |
| Recovery rate (per day) | 4% |
| | |
| --- | --- |
| Maintenance (sup/month) | 45 |
Combat Performance
Mounts
2x Large Energy
1x Large Synergy
3x Medium Missile
12x Small Energy
Advanced Stats
| | |
| --- | --- |
| Recovery cost (supplies) | 45 |
| | |
| --- | --- |
| Peak performance (sec) | 600 |
The asymmetric, spheroid design belies the power of this battlecruiser. The base hull presents a tactical setup that favors energy weapons and mobility. Carrier capabilities further augment its tactical options.

–In-Game Description
The Odyssey is a single broadside combat carrier that can excel at flanking. Using seeking missile options for the off-bore large missile slot is popular, such as Squall MLRS, Hurricane MIRV Launcher or Locust SRM Launcher. The Plasma Burn system allows for excellent flanking mobility, as well as other tactics.
Like other Plasma Burn ships the Odyssey is capable of using its ship system to knock other ships around. Unlike other Plasma Burn ships the Odyssey has quite a bit of bulk to back this up. An unconventional but often effective tactic is to engage the system while an enemy is trying to flank around the front of the ship.
Experienced pilots can consider dropping the shields in order to facilitate a more favorable post-collision trajectory for the enemy i.e. directly into the left hand side main battery kill zone.
Advanced pilots can consider raising the shield with such a timing that the unfolding shield impacts the enemy ship after the hull collision but while the enemy is still nominally within the shield arc. This shield bump can bump them quite further off and potentially further increase control of their trajectory, with skill.

0.9
Major rework
Removed front overlap of 3 large turrets
Improved arcs of two rear-facing small turrets
Changed right-side large energy turret type to "synergy"
Added built-in High Resolution Sensors
Added built-in ECCM Package
Reduced fuel/light-year to 8 (was: 10)
Increased OP by 10, from 270 to 280
Reduced top speed to 70 (was 80)
Ship system changed to "Plasma Burn"
Very brief, very fast burn; moves about one ship length forward
Can still steer and use shields, but can't move backwards
Stores up to two charges
0.8.1a-RC5
Fighter Bays increased from 1 to 2
Max speed increased from 50 to 80
Acceleration increased from 25 to 50
Deceleration increased from 15 to 30
Turn acceleration increased from 8 to 12
Shield efficiency reduced from 0.8 to 1
Peak Performance Time reduced from 660 to 600
0.8a
increased burn level by 1

Up to date for version 0.95
Community content is available under
CC-BY-SA
unless otherwise noted.