Mule-class Combat Freighter
Logistical Data
| | |
| --- | --- |
| Recovery rate (per day) | 5% |
| | |
| --- | --- |
| Maintenance (sup/month) | 7.0 |
Combat Performance
Mounts
1x Medium Composite
2x Small Missile
3x Small Ballistic
Advanced Stats
| | |
| --- | --- |
| Recovery cost (supplies) | 7 |
| | |
| --- | --- |
| Peak performance (sec) | 420 |
The Mule-class is a tough nut to crack, which makes its designation as a combat freighter apt. Pirates will often bypass even a lone Mule and go off in search of easier prey.

Often its captains casually ferry cargo to and fro between the solar systems of the Sector alone and comfortable in the knowledge that they could afford the best protection a freighter captain can hope to get, short of an escort, of course.

–In-Game Description
Mule-class Combat Freighter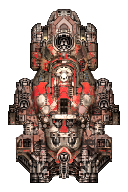 Logistical Data
| | |
| --- | --- |
| Recovery rate (per day) | 5% |
| | |
| --- | --- |
| Maintenance (sup/month) | 7.0 |
Combat Performance
Mounts
1x Medium Universal
2x Small Missile
3x Small Ballistic
Advanced Stats
| | |
| --- | --- |
| Recovery cost (supplies) | 7 |
| | |
| --- | --- |
| Peak performance (sec) | 420 |
This ship has been heavily modified - and poorly maintained - by its pirate crew.

The Mule-class is a tough nut to crack, which makes its designation as a combat freighter apt. Pirates will often bypass even a lone Mule and go off in search of easier prey.

Often its captains casually ferry cargo to and fro between the solar systems of the Sector alone and comfortable in the knowledge that they could afford the best protection a freighter captain can hope to get, short of an escort, of course.

–In-Game Description
Notes
[
]
A freighter that doesn't shy away from combat, what Mule loses in cargo space it gains in proper destroyer level tank and roughly frigate damage output. The Pirate version traditionally comes with built-in Shielded Cargo Holds; it also has an Universal medium slot rather than a Composite one.
Change History
[
]
0.9
Increased OP from 65 to 80
Changed medium turret type to composite from energy (Pirate version keeps its universal mount)
Increased max speed from 40 to 60

Only up to date for version 0.95. It is likely still broadly correct but not verified for the most up to date data yet. Please double check the Version History.