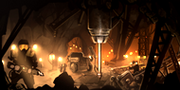 Metal and metalloid ores, organics, and volatile compounds all require heavy equipment, special infrastructure, and a skilled workforce to extract. The harsh work attracts a certain type, and an administration that's not willing to look the other way now and again may find itself running short of willing personnel.

–In-game description
Mining is an industry. It can be built on any Colony with access to at least one deposit of Ore, Transplutonic Ore, Volatiles, or Organics.
Mining does not provide any benefits to the colony.
Mining has a base upkeep of 1 000 credits, increasing by the same amount for each colony size past 3.
Based on available resources, Mining can produce the following commodities;
Mining demands the following commodities;
A shortage of Recreational Drugs will reduce the colonies' growth point total by an amount equal to the shortage.
Mining receives the following perks from the assignment of an AI Core;
Gamma; reduces demand by one unit
Beta; reduces demand by one unit, reduces upkeep by 25%
Alpha; reduces demand by one unit, reduces upkeep by 25%, increases production by one unit
Mining interests the Luddic Path, increasing Pather interest by (1).
Mining's icon changes based on the colony size, with one icon denoting a colony of sizes 3 or 4, and one a colony of size 5 and above.

Up to date for version 0.9.1
Community content is available under
CC-BY-SA
unless otherwise noted.