The Midline Station is one of the three buildable station industries.
It is found around a number of Persean League planets, the Hegemony's Jangala and Sindrian Diktat's Volturn. Pirate bases may also sometimes be midline stations.
Overview
[
]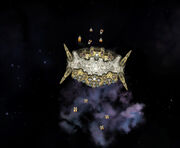 Unlike the other stations, the midline station is two-sided and rotates at a higher speed.
The basic Orbital Station has one Heavy Broadside Module with a large battery of ballistic and energy weapons, and one Heavy Support Module with four fighter wings and medium missile mounts. The structural spurs on the corners can be shot off, exposing the modules to flanking shots that slip under their shields.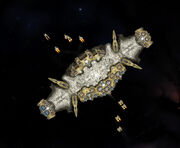 The Battlestation adds a Light Support Module to each end, notably armed with two large missile mounts each.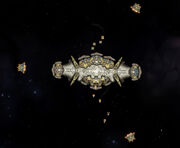 The Star Fortress adds a moderately powerful minelayer, three Ravelin drones, and Station Armour modules to all the armed modules.
Notes
[
]
In version 0.9.1 the Midline Battlestation provides a fairly modest increase in direct combat (not autoresolve) power over the Orbital Station, but the Star Fortress greatly improves it.[1]

References
[
]

Only up to date for version 0.9.1. It is likely still broadly correct but not verified for the most up to date data yet. Please double check the Version History