Legion-class Battlecarrier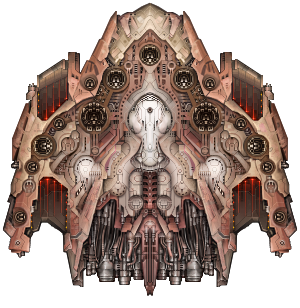 Logistical Data
| | |
| --- | --- |
| Recovery rate (per day) | 3% |
| | |
| --- | --- |
| Maintenance (sup/month) | 40 |
Combat Performance
Mounts
2x Large Ballistic
5x Medium Composite
8x Small Ballistic
Advanced Stats
| | |
| --- | --- |
| Recovery cost (supplies) | 40 |
| | |
| --- | --- |
| Peak performance (sec) | 720 |
After the legendary success of the Onslaught design it became clear that rebellious systems without ultraheavy industrial capacity were able to develop carrier-based strike-craft capable of countering the 'Old Man' of the Domain Armada. Alongside new weapons - nimble anti-fighter missiles and rapid-tracking point defense cannon - the Strategic Council decided that the Armada needed a carrier of its own worthy to serve alongside the Onslaught. Thus the Legion was designed to provide a mobile platform for basing interceptors and strike-craft while able to stand on the line of battle.

Classified as a battlecarrier, the Legion mounts an impressive array of heavy weapons as well as hangar-space and command-control capacity sufficient to field four fighter wings. Later models were upgraded with specialized nanoforges keyed to replacement and repair of fightercraft, significantly increasing tooth-to-tail ratio on distant deployments.

Proponents of the 'Cruiser School' criticized the Legion for being insufficiently specialized in its role, maintaining that similar fighter volume can be fielded at far less cost and with greater flexibility if combat roles are separated into distinct ship hulls. The economic arguments do pale in the face of an incoming Legion engaging its burn drive to deliver crushing firepower at the key point of battle.

–In-Game Description
Legion-class Battlecarrier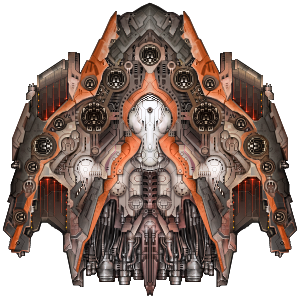 Logistical Data
| | |
| --- | --- |
| Recovery rate (per day) | 3% |
| | |
| --- | --- |
| Maintenance (sup/month) | 40 |
Combat Performance
| | |
| --- | --- |
| Armor rating | 1,600 (+100) |
| | |
| --- | --- |
| Flux capacity | 12,600 (+599) |
| | |
| --- | --- |
| Flux dissipation | 525 (+25) |
Mounts
2x Large Missile
5x Medium Ballistic
8x Small Ballistic
Advanced Stats
| | |
| --- | --- |
| Recovery cost (supplies) | 40 |
| | |
| --- | --- |
| Peak performance (sec) | 720 |
A survivor of the original 14th Domain Battlegroup which founded the Hegemony, this ship is a prime specimen of the Domain Navy's 'decisive battle' doctrine, particularly exhibited by a series of radical structural modifications performed using pre-Collapse industrial technology.

After the legendary success of the Onslaught design it became clear that rebellious systems without ultraheavy industrial capacity were able to develop carrier-based strike-craft capable of countering the 'Old Man' of the Domain Armada. Alongside new weapons - nimble anti-fighter missiles and rapid-tracking point defense cannon - the Strategic Council decided that the Armada needed a carrier of its own worthy to serve alongside the Onslaught. Thus the Legion was designed to provide a mobile platform for basing interceptors and strike-craft while able to stand on the line of battle.

Classified as a battlecarrier, the Legion mounts an impressive array of heavy weapons as well as hangar-space and command-control capacity sufficient to field four fighter wings. Later models were upgraded with specialized nanoforges keyed to replacement and repair of fightercraft, significantly increasing tooth-to-tail ratio on distant deployments.

Proponents of the 'Cruiser School' criticized the Legion for being insufficiently specialized in its role, maintaining that similar fighter volume can be fielded at far less cost and with greater flexibility if combat roles are separated into distinct ship hulls. The economic arguments do pale in the face of an incoming Legion engaging its burn drive to deliver crushing firepower at the key point of battle.

–In-Game Description

The Legion is a capital-grade battlecarrier and one of the largest and most formidable carrier ships in the Sector.
While Legion do have the largest flight carrier capability, it is not as efficient when compared to its inferiors. It comes with the heavy arsenal of frontal weaponry (as well as side). This allow legion to efficiently suppress anything smaller than itself from approaching it, on top of the supports from its own fighters. Legions are very lacking when it comes to its back, there are virtually no defense against attack from its back, escort of frigates are necessary in protecting its behind.
Its four flight decks combined with an adequate ordnance point pool allow the projection of an impressive fighter force, backed by its extensive artillery and ballistic arsenal. The combination of flight decks and ballistic mounts brings with a great amount of flexibility, with the ship being able to take the role of either a first-line attacker or a support ship.
The Burn Drive system allows the Legion to dash to the center of the battle and engage the enemy directly with its fighters, as well as to escape from danger when it's necessary - an ability hindered by Legion's poor maneuverability. During combat care must be taken to ensure that the flanks of the ship are protected, as its poor top speed and maneuverability combined with a lack of point defense mounts, especially in the back, make the ship vulnerable to fast attackers or overwhelming fighter forces.
The regular Legion can be purchased from Hegemony Military markets if the player's standing with the Hegemony is favorable. Additionally it can be recovered from defeated Hegemony fleets or as a derelict ship.
XIV Legions do not occur in NPC fleets and do not have blueprints; they can only be found as derelicts. A number of derelict Legions are seeded in randomly selected Remnant systems on sector generation; some but not all are recoverable.
It has the second largest skeleton crew requirement of all ships, second only to the Onslaught.

Only up to date for version 0.8a-RC19. It is likely still broadly correct but not verified for the most up to date data yet. Please double check the Version History
Community content is available under
CC-BY-SA
unless otherwise noted.