Harbinger-class Phase Destroyer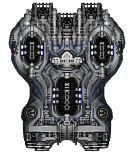 Logistical Data
| | |
| --- | --- |
| Recovery rate (per day) | 5% |
| | |
| --- | --- |
| Maintenance (sup/month) | 20 |
Combat Performance
Mounts
2x Small Universal
3x Medium Energy
Advanced Stats
| | |
| --- | --- |
| Recovery cost (supplies) | 20 |
| | |
| --- | --- |
| Peak performance (sec) | 300 |
| | |
| --- | --- |
| Cloak activation cost | 250 |
A deadly phase destroyer feared and scorned by those crews who have suffered the misfortune of facing it in battle. The Harbinger possesses a device which allows it to briefly disable enemy ships, creating openings that it - or its allies - can exploit.

"The Tri-Tachyon Corporation denies allegations of ongoing involvement in phasing experiments, much less the - and I quote - 'clandestine development and operation of phase warships' which would of course be in direct violation of the Treaty of Thule. It is Company policy to pursue full persecution of individuals, mercantile bodies, spiritual clades, and any registered polities committing gross and flagrant defamation to the full extent of local jurisdictional power as per the Sector Commercial Accords of Cycle 32 AC. Our legal team will be in touch."

–In-Game Description
The Harbinger is a phase destroyer with high-forward facing firepower and the extremely potent Quantum Disruptor ship system.
0.9a
System changed to Quantum Disruptor
0.8a
Ship ordnance points increased across the board by 0-20%, around 10% in most cases

Some ships increased more or less of an increase for balance reasons; examples:
Harbinger: 80 -> 95

Only up to date for version 0.9. It is likely still broadly correct but not verified for the most up to date data yet. Please double check the Version History
Community content is available under
CC-BY-SA
unless otherwise noted.