Hammerhead-class Destroyer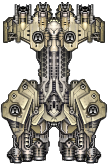 Logistical Data
| | |
| --- | --- |
| Recovery rate (per day) | 5% |
| | |
| --- | --- |
| Maintenance (sup/month) | 10.0 |
Combat Performance
Mounts
2x Small Missile
2x Medium Ballistic
4x Small Hybrid
Advanced Stats
| | |
| --- | --- |
| Recovery cost (supplies) | 10 |
| | |
| --- | --- |
| Peak performance (sec) | 360 |
A midline destroyer from the golden age of the Domain, the Hammerhead is respected for its staying power in battle as well as its ballistic capabilities.

–In-Game Description
Overview
[
]
The Hammerhead is a versatile midline destroyer that performs well both as flagship and escort.
Notes
[
]
True to its name, the Hammerhead is all about the head-on engagement owing to its front shield and large amount of forward-facing hardpoints; its side and rear firepower is limited to the four small hybrid turrets. The Extended Shields hullmod will give 360° coverage.
Suggested Strategies and Loadouts
[
]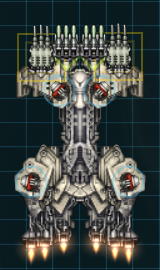 Skirmisher Variant (custom): This "kinetics 'n missiles" loadout uses its twin Heavy Autocannons to pummel enemy shields and hits them with the Harpoon MRMs when they're vulnerable. Including the Expanded Missile Racks hullmod ensures a sufficient supply of Harpoons for the Hammerhead to get the job done.
Change History
[
]
0.95a
Rear turrets no longer capable of facing directly to the front
Fixed slight alignment issue for left medium hardpoint, this is Very Important
0.9.1a
Increased supply cost to deploy and per month to 10 (was: 8)
0.8a
Ordnance points increased by 5
Accelerated Ammo Feeder: now reduces ballistic flux cost by 50% (was: 30%)

Up to date for version 0.95