Gemini-class Freighter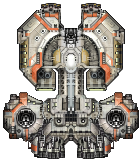 Logistical Data
| | |
| --- | --- |
| Recovery rate (per day) | 4% |
| | |
| --- | --- |
| Maintenance (sup/month) | 9.0 |
Combat Performance
Mounts
1x Medium Missile
2x Medium Ballistic
Advanced Stats
| | |
| --- | --- |
| Recovery cost (supplies) | 9 |
| | |
| --- | --- |
| Peak performance (sec) | 360 |
A common freighter, found in convoys or alone, used to haul all manner of goods across the Sector. Has a small flight deck.

The design of the Gemini-class freighter is highly modular, enabling the ship to serve in a variety of roles in and out of combat. The entire cargo container is designed around a quick release mechanism which enables the main hull of the ship to quickly hyperspace in, detach its full cargo section, and swap it for another Gemini-type container in the span of minutes. In addition, multiple medium weapon mounts make the Gemini a viable long-range fire support platform. The flight deck is tiny, and was probably envisioned for mining drone repair on hazardous mining operations. Modern use in the Sector extends flight deck facilities to all fighter types.

While impressive in a blueprint, the lack of empty, compatible Gemini-type containers in the Sector makes the actual usefulness of the quick-release mechanism negligible. The modularity, a great boon in types past is also prone to wear and tear, and is thus more expensive to maintain. Nonetheless, a decent overall profile, the flight deck, a flexible power core and good shields make the Gemini a good choice for cargo hauling, if the cost can be weathered.

–In-Game Description
The Gemini is a freighter with secondary carrier capability. It offers better armament and cargo capacity than the Condor, but cannot fit as many fighter wings, although the Reserve Deployment ship system can boost its fighter strength at key times.

Only up to date for version 0.8a-RC19. It is likely still broadly correct but not verified for the most up to date data yet. Please double check the Version History
Community content is available under
CC-BY-SA
unless otherwise noted.