Fury-class Light Cruiser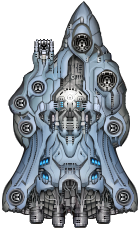 Logistical Data
| | |
| --- | --- |
| Recovery rate (per day) | 4% |
| | |
| --- | --- |
| Maintenance (sup/month) | 15 |
Combat Performance
Mounts
1x Medium Energy
1x Medium Synergy
1x Medium Missile
6x Small Energy
Advanced Stats
| | |
| --- | --- |
| Recovery cost (supplies) | 15 |
| | |
| --- | --- |
| Peak performance (sec) | 420 |
A fast-attack high-tech light cruiser, the Fury is designed to choose when and where it strikes so as to inflict maximum effect upon the enemy. The specialized inbuilt plasma 'microburn' system allows the Fury to make small dashes at high speed to catch unwary opponents off-guard.
The Fury-class is the Shrike-class's big sibling, a product of the same design team asked to fulfill slightly updated requirements, including resolution of the longstanding hull corrosion issue without, it was hoped, introducing any new problems. This was largely successful (once the chaos of several indignant resignations was sorted out).
Dismissed by heavy-armor-ballistic-firepower traditionalists as 'just another small-bore glass cannon', the Fury has nonetheless proven quite dangerous in the hands of quick-thinking fleet commanders.

–In-Game Description
Overview
[
]
The Fury is a High Tech light cruiser. It can serve similarly to the Shrike, being faster, more maneuverable, and cheaper than many other cruisers.
Notes
[
]
The Bonk
[
]
As with other Plasma Burn ships, the Fury can accelerate into a target at extreme speed, inflicting significant ramming damage at some risk to itself. With timing while raising shields, ships can be flung away from the Fury into a favorable position for the rest of the fleet.
Change History
[
]
0.9.5
Introduced into the game.

Up to date for version 0.95