Falcon-class Light Cruiser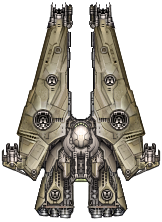 Logistical Data
| | |
| --- | --- |
| Recovery rate (per day) | 4% |
| | |
| --- | --- |
| Maintenance (sup/month) | 15 |
Combat Performance
Mounts
2x Small Missile
2x Medium Ballistic
2x Medium Energy
4x Small Energy
Advanced Stats
| | |
| --- | --- |
| Recovery cost (supplies) | 15 |
| | |
| --- | --- |
| Peak performance (sec) | 480 |
Often called the Eagle cruiser's little brother, the Falcon-class cruiser sacrifices armor for speed, neatly filling the light cruiser role in military fleets throughout the Sector.

The "light" designation does not indicate a significant reduction in firepower, however, making the Falcon a valuable tactical asset to any fleet. The ship is easily able to fill a wide variety of roles, from close support to assault, given the proper configuration.

The Falcon's top notch engines give it the ability to quickly disengage from battle should its defenses be pressed to a critical point.

Swift and elegant, Falcon-class cruisers are often found as lead elements in larger fleet formations, or deployed to reinforce anti-pirate convoys.

–In-Game Description
Falcon-class Light Cruiser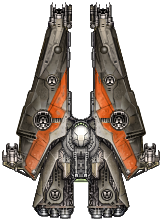 Logistical Data
| | |
| --- | --- |
| Recovery rate (per day) | 4% |
| | |
| --- | --- |
| Maintenance (sup/month) | 15 |
Combat Performance
| | |
| --- | --- |
| Flux capacity | 7,350 (+349) |
| | |
| --- | --- |
| Flux dissipation | 367 (+17) |
Mounts
2x Small Missile
2x Medium Ballistic
2x Medium Energy
4x Small Energy
| | |
| --- | --- |
| Hull mods | Fourteenth Battlegroup |
Advanced Stats
| | |
| --- | --- |
| Recovery cost (supplies) | 15 |
| | |
| --- | --- |
| Peak performance (sec) | 480 |
A survivor of the original 14th Domain Battlegroup which founded the Hegemony, this ship is a prime specimen of the Domain Navy's 'decisive battle' doctrine, particularly exhibited by a series of radical structural modifications performed using pre-Collapse industrial technology.

Often called the Eagle cruiser's little brother, the Falcon-class cruiser sacrifices armor for speed, neatly filling the light cruiser role in military fleets throughout the Sector.

The "light" designation does not indicate a significant reduction in firepower, however, making the Falcon a valuable tactical asset to any fleet. The ship is easily able to fill a wide variety of roles, from close support to assault, given the proper configuration.

The Falcon's top notch engines give it the ability to quickly disengage from battle should its defenses be pressed to a critical point.

Swift and elegant, Falcon-class cruisers are often found as lead elements in larger fleet formations, or deployed to reinforce anti-pirate convoys.

–In-Game Description
Falcon (P)-class Light Cruiser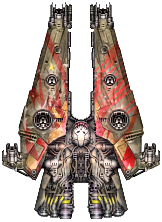 Logistical Data
| | |
| --- | --- |
| Recovery rate (per day) | 4% |
| | |
| --- | --- |
| Maintenance (sup/month) | 15 |
Combat Performance
Mounts
2x Medium Composite
2x Medium Missile
2x Small Missile
2x Small Energy
Hull mods
Augmented Drive Field
Unstable Injector
Advanced Stats
| | |
| --- | --- |
| Recovery cost (supplies) | 10 (-5) |
| | |
| --- | --- |
| Peak performance (sec) | 480 |
This Falcon's propulsion system has been given impractical yet showy 'improvements' by some enthusiastic pirate crew; the patchwork of engine components, somehow persuaded to work toward ungainly common purpose, conform to zero safety standards.

Often called the Eagle cruiser's little brother, the Falcon-class cruiser sacrifices armor for speed, neatly filling the light cruiser role in military fleets throughout the Sector.

The "light" designation does not indicate a significant reduction in firepower, however, making the Falcon a valuable tactical asset to any fleet. The ship is easily able to fill a wide variety of roles, from close support to assault, given the proper configuration.

The Falcon's top notch engines give it the ability to quickly disengage from battle should its defenses be pressed to a critical point.

Swift and elegant, Falcon-class cruisers are often found as lead elements in larger fleet formations, or deployed to reinforce anti-pirate convoys.

–In-Game Description
The Falcon is a midline light cruiser. A smaller version of the Eagle, it trades firepower and armor for speed.
Notes
[
]
With a speed exceeding that of many destroyer-sized vessels and which can be further augmented by Maneuvering Jets, the Falcon offers a fair amount of firepower in a highly mobile and moderately survivable package. The pirate version is effective as a fast missile strike platform.
The Falcon provides a large amount of OP at a relative excellent price in a frame that benefits from cruiser scaling on hullmods.
The similarly excellent flux stats & top-tier cruiser mobility are balanced against relatively lower hull, armour and number of weapon hardpoints compared to its counterparts.
This lends the Falcon to performing well with high flux weapons that make use of its deep flux pool while using few mounts. The availability of ballistic mounts grant access to the high efficiency weapons typically found on low tech ships but without their crippling mobility to balance it out. Dedicated Targeting Core or Integrated Targeting Unit is a common choice to take advantage of cruiser scaling.
The Falcon is a versatile ship that can leverage its unique attributes to perform many different roles.
The pirate-model Falcon (P) stands out as a particularly deadly conversion, exchanging the mediocre performance of much the base model Falcon's energy armament for a heavily missile-focused set of weapons that give it immense striking power for its size. Two built-in hullmods in Augmented Drive Field and Unstable Injector give it a burn level and top speed more comparable to a frigate or light destroyer than a cruiser. Furthermore, Unstable Injector's range penalty has no effect on the Falcon (P)'s missile weapons, leaving it with almost no drawbacks in exchange for its significant speed increase.
Change History
[
]
0.9.1a
Fixed issue with Falcon (P) sometimes restoring to the base Falcon class
0.9a
Added Falcon (P) - pirate "hot rod" version with extensive modifications
0.8a
increased the burn level to 9

Up to date for version 0.95