Eagle-class Cruiser
Logistical Data
| | |
| --- | --- |
| Recovery rate (per day) | 3% |
| | |
| --- | --- |
| Maintenance (sup/month) | 22 |
Combat Performance
Mounts
2x Small Missile
3x Medium Ballistic
3x Medium Energy
5x Small Energy
Advanced Stats
| | |
| --- | --- |
| Recovery cost (supplies) | 22 |
| | |
| --- | --- |
| Peak performance (sec) | 480 |
Eagle-class cruisers are often found at the core of military fleets headed for battle. It is not hard to see why: A strong overall profile, with a robust engine, the Eagle's deadly weapons package is a threat to all enemies.

The Eagle can deliver a strong tactical punch to enemy formations. Its numerous turret and hardpoint emplacements make it very dangerous to smaller foes. Decent armor and a strong shield emitter let it hold space while outnumbered, or even when faced with the rare larger ship.

These strengths are somewhat countered by strike craft - an Eagle captain must always watch their scopes for an approaching strike squadron, since their ship will be easily crippled by multiple hits from modern strike weapons.

The embodiment of the sleek and powerful space cruiser from the time of the Domain, the Eagle-class ships are a beautiful reminder of the technological and aesthetic achievements of humanity's past.

–In-Game Description
Eagle-class Cruiser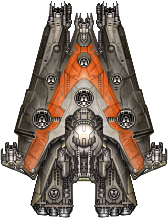 Logistical Data
| | |
| --- | --- |
| Recovery rate (per day) | 3% |
| | |
| --- | --- |
| Maintenance (sup/month) | 22 |
Combat Performance
| | |
| --- | --- |
| Armor rating | 1,100 (+100) |
| | |
| --- | --- |
| Flux capacity | 11,550 (+549) |
| | |
| --- | --- |
| Flux dissipation | 630 (+30) |
Mounts
2x Small Missile
3x Medium Ballistic
3x Medium Energy
5x Small Energy
| | |
| --- | --- |
| Hull mods | Fourteenth Battlegroup |
Advanced Stats
| | |
| --- | --- |
| Recovery cost (supplies) | 22 |
| | |
| --- | --- |
| Peak performance (sec) | 480 |
A survivor of the original 14th Domain Battlegroup which founded the Hegemony, this ship is a prime specimen of the Domain Navy's 'decisive battle' doctrine, particularly exhibited by a series of radical structural modifications performed using pre-Collapse industrial technology.

Eagle-class cruisers are often found at the core of military fleets headed for battle. It is not hard to see why: A strong overall profile, with a robust engine, the Eagle's deadly weapons package is a threat to all enemies.

The Eagle can deliver a strong tactical punch to enemy formations. Its numerous turret and hardpoint emplacements make it very dangerous to smaller foes. Decent armor and a strong shield emitter let it hold space while outnumbered, or even when faced with the rare larger ship.

These strengths are somewhat countered by strike craft - an Eagle captain must always watch their scopes for an approaching strike squadron, since their ship will be easily crippled by multiple hits from modern strike weapons.

The embodiment of the sleek and powerful space cruiser from the time of the Domain, the Eagle-class ships are a beautiful reminder of the technological and aesthetic achievements of humanity's past.

–In-Game Description
Overview
[
]
The Eagle is a midline cruiser with good all-around stats.
Notes
[
]
With its many front-facing weapons and front shield, the Eagle should be kept facing the biggest threats. Maneuvering Jets are useful for bringing your guns to bear or turning to cover weak spots in your defense, as well as for getting around. The Extended Shields hullmod still won't completely cover your six, but it will make the gap in your shield much narrower.
Plan your loadout carefully. A good combination is kinetic weapons (Heavy Autocannon, Light Needler / Heavy Needler or Railgun / Hypervelocity Driver) up front to overload enemy shields, coupled with beam weapons and/or a strike weapon such as the Harpoon MRM. You can also reverse the setup and combine Graviton Beams with a HE ballistic weapon such as the Assault Chaingun or Heavy Mauler, perhaps with Sabot SRMs for dealing with recalcitrant shields (e.g. the stock Assault variant). Leave some mounts empty to save OP if necessary.
Suggested Loadouts and Strategies
[
]
Line Ship Loadout
[
]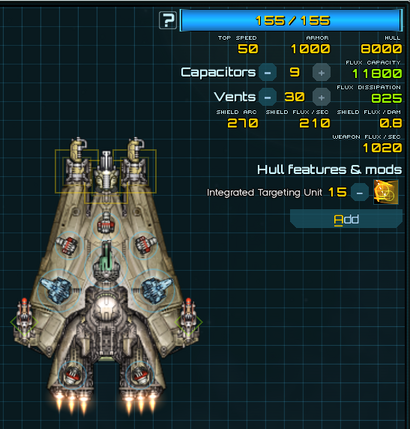 The Line Ship loadout exists in order to keep enemy suppressed and to make them unable to deal damage to your forces, with two Hypervelocity Drivers and single Heavy Mauler in its medium ballistic hardpoints as source of hard flux damage from all three, light EMP from Hypervelocity Drivers and light armor damage from the Mauler. Enemy is punished, does not matter if their shield is up or not.
Two Graviton Beams and singular Ion Beam in medium energy turrets match range with the weapons put into hardpoints. Gravitons provide constant kinetic damage at low cost, lowering enemy dissipation when hitting the shield (as beams deal soft flux damage, it is dissipated even with shield being up) which makes enemy more prone to fluxing themselves out. Meanwhile Ion Beam deals EMP damage if hitting enemy hull, while also being able to spawn a shield-penetrating arc, depending on enemy flux level.
Three LR PD Lasers in frontal small energies provide point defense for itself and allies ,while and two PD Lasers in the back cover the engines, keeping ship safe from Salamanders if enemy will be using them, as well as fighters, albeit with worse effectiveness against the latter. Integrated Targeting Unit increases weapon range by 40%. Weapon groups for this loadout are as follows:
Change History
[
]
0.95.1a-RC6
Increased flux dissipation to 600 (was: 525)
Increased flux capacity to 11000 (was: 10000)
Up to date for version 0.95.1