Dominator-class Heavy Cruiser
Logistical Data
| | |
| --- | --- |
| Recovery rate (per day) | 4% |
| | |
| --- | --- |
| Maintenance (sup/month) | 25 |
Combat Performance
Mounts
2x Large Ballistic
2x Medium Ballistic
3x Medium Missile
9x Small Ballistic
Advanced Stats
| | |
| --- | --- |
| Recovery cost (supplies) | 25 |
| | |
| --- | --- |
| Peak performance (sec) | 540 |
Ponderous and menacing, the Dominator-class is one of the most widespread system defense cruisers in Hegemony space.

While not the most technologically advanced hull, it relies on a plethora of ballistic hardpoints to accomplish its mission, which is more often than not defending stationary installations and vital system trade routes. A poor shield emitter which is difficult to manage and thus, rarely engaged, gives way to an almost impregnable interlocking armor belt system making the Dominator safe from most weapons. Even strike craft cannot overcome the hail of projectiles that can be launched to intercept their payloads. This hull proves that tried and true military engineering is difficult to overcome by new ideas and technologies, especially when in the hands of tough, determined crews and experienced officers.

Dependable, durable, and a constant presence in home space around civilized worlds and outposts, the Dominator is perhaps most hated and feared by pirates and law-breaking corporate agents.

–In-Game Description
Dominator-class Heavy Cruiser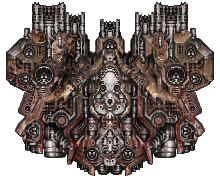 Logistical Data
| | |
| --- | --- |
| Recovery rate (per day) | 4% |
| | |
| --- | --- |
| Maintenance (sup/month) | 25 |
Combat Performance
| | |
| --- | --- |
| Flux capacity | 8,500 (-1500) |
| | |
| --- | --- |
| Flux dissipation | 425 (-75) |
Mounts
2x Large Ballistic
2x Medium Ballistic
3x Medium Missile
9x Small Ballistic
Hull mods
Compromised Armor
Faulty Power Grid
Advanced Stats
| | |
| --- | --- |
| Recovery cost (supplies) | 16 (-9) |
| | |
| --- | --- |
| Peak performance (sec) | 540 |
Ships that would be decommissioned in quieter times now see widespread use throughout the Sector. The hull designation for such ships is usually tagged with a "D", for "damaged" or "defective".

Ponderous and menacing, the Dominator-class is one of the most widespread system defense cruisers in Hegemony space.

While not the most technologically advanced hull, it relies on a plethora of ballistic hardpoints to accomplish its mission, which is more often than not defending stationary installations and vital system trade routes. A poor shield emitter which is difficult to manage and thus, rarely engaged, gives way to an almost impregnable interlocking armor belt system making the Dominator safe from most weapons. Even strike craft cannot overcome the hail of projectiles that can be launched to intercept their payloads. This hull proves that tried and true military engineering is difficult to overcome by new ideas and technologies, especially when in the hands of tough, determined crews and experienced officers.

Dependable, durable, and a constant presence in home space around civilized worlds and outposts, the Dominator is perhaps most hated and feared by pirates and law-breaking corporate agents.

–In-Game Description
Dominator-class Heavy Cruiser
Logistical Data
| | |
| --- | --- |
| Recovery rate (per day) | 4% |
| | |
| --- | --- |
| Maintenance (sup/month) | 25 |
Combat Performance
| | |
| --- | --- |
| Armor rating | 1,650 (+100) |
| | |
| --- | --- |
| Flux capacity | 10,500 (+500) |
| | |
| --- | --- |
| Flux dissipation | 525 (+25) |
Mounts
2x Large Ballistic
2x Medium Ballistic
3x Medium Missile
9x Small Ballistic
| | |
| --- | --- |
| Hull mods | Fourteenth Battlegroup |
Advanced Stats
| | |
| --- | --- |
| Recovery cost (supplies) | 25 |
| | |
| --- | --- |
| Peak performance (sec) | 540 |
A survivor from the 14th Domain Battlegroup which founded the Hegemony, this ship is a prime specimen of Domain Naval shipcraft.

Ponderous and menacing, the Dominator-class is one of the most widespread system defense cruisers in Hegemony space.

While not the most technologically advanced hull, it relies on a plethora of ballistic hardpoints to accomplish its mission, which is more often than not defending stationary installations and vital system trade routes. A poor shield emitter which is difficult to manage and thus, rarely engaged, gives way to an almost impregnable interlocking armor belt system making the Dominator safe from most weapons. Even strike craft cannot overcome the hail of projectiles that can be launched to intercept their payloads. This hull proves that tried and true military engineering is difficult to overcome by new ideas and technologies, especially when in the hands of tough, determined crews and experienced officers.

Dependable, durable, and a constant presence in home space around civilized worlds and outposts, the Dominator is perhaps most hated and feared by pirates and law-breaking corporate agents.

–In-Game Description
Overview
[
]
The Dominator is a low-tech heavy cruiser with poor speed and maneuverability but immense frontal firepower.
Notes
[
]
The Dominator is outfitted with 2 large ballistic hardpoints, 2 medium ballistic Turrets, 3 medium missile hardpoints and 9 small ballistic turrets. The medium turrets are each facing forward and have an arc of ~120°, 3 small turrets are facing forward, 2 are facing the sides and 4 are facing the back.
Due to its limited-arc front shield, poor maneuverability and lack of rear-facing turrets, the Dominator is (relatively) vulnerable to rear attacks. Additionally, like many other low tech ships its base flux capacity and dissipation are not commensurate with its weaponry, so it can find itself on the brink of an overload quickly if not carefully managed and outfitted.
While its combat speed and maneuverability are dreadfully poor, the Dominator's Burn Drive system lets it get to the site of an engagement fairly quickly and run down enemies attempting to keep their distance or flee.
Firing Annihilator Rocket Pods while Burn Drive is active will cause the rockets to bunch up closer together, so there is a lower period of time between hits when they contact an enemy ship.
Suggested loadouts and strategies
[
]
General use variant
[
]
This one is pretty straightforward, 2 Mark IX Autocannons in the large hardpoints (making them a bit more accurate than usual), Vulcan Cannons all around in the small slots and depending how much range you want, either Heavy Maulers which have slightly less DPS or Heavy Mortars which are shorter range and more inaccurate. The three medium missile slots can be fitted with Annihilator Rocket Pods to provide excellent HE pressure. Alternatively Harpoon MRM Pods can also be used if you want to be extra sure the enemy doesn't evade the missiles (this option is probably better for AI Dominators).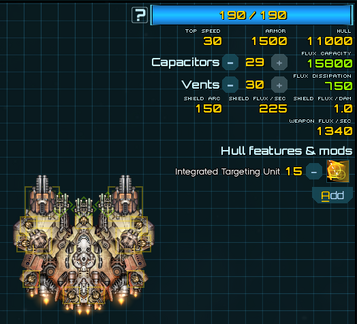 As for hullmods, Integrated Targeting Unit is probably the only crucial thing it needs, you could slap some more on the ship but it's smarter to prioritise vents and capacitors as it has poor flux for its weapon slots.
For general
strategy
, it is best you give Dominators some escort as the pretty sluggish and weak in the back. You should be careful with activating
Burn Drive
as it can quickly get you in a situation from which you cannot escape. Try to time your missiles with
Mark IX Autocannon
shots so the enemy has to either overload or take heavy damage.
SO variant
[
]
Note that this isn't the most optimal build, but the fun factor alone makes it important to include. Safety Overrides is obviously crucial with Auxiliary Thrusters (unless you have appropriate Skills). Put 2 Devastator Cannons in the front, back them up with 2 Heavy Machine Guns in the mediums slots and then fill the small slots with point defense of your choice. Now usually Sabot SRM Pods will be most useful as a missile choice but if you know you're going to fight a lot of low tech ships, feel free to slap Typhoon Reaper Launchers there.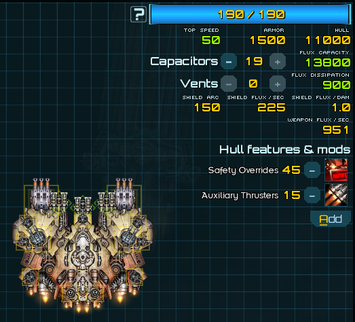 Kinetic side may seem a bit weak so if you're in a dire need of it, Storm Needler paired with Assault Chainguns in the back may prove more efficient. But be wary as this twist on the SO variant uses a lot flux.
Hullmods: Besides SO, Resistant Flux Conduits may come in handy since you're going to be basically hugging enemy ships so the faster vent speed plus EMP resistance can help greatly.
The only
strategy:
Press F to
Burn Drive
in, press LMB, smile because nothing will ever come close to this feeling.
Up to date for version 0.95.1