Colossus Mk.III-class Modified Freighter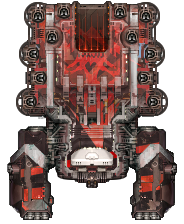 Logistical Data
| | |
| --- | --- |
| Recovery rate (per day) | 3% |
| | |
| --- | --- |
| Maintenance (sup/month) | 8 |
Combat Performance
| | |
| --- | --- |
| Mounts | 12x Small Ballistic |
Advanced Stats
| | |
| --- | --- |
| Recovery cost (supplies) | 8 |
| | |
| --- | --- |
| Peak performance (sec) | 480 |
The Colossus was first adapted for war by Pather militants, but enterprising pirates soon followed their lead. A similarly haphazard process sees most cargo decks collapsed and re-welded to form thick armour dotted with numerous weapons emplacements. The primary cargo bay was left open, however, and converted into an ersatz fighter launch bay with the addition of a micro civilian forge-vat intended for the manufacture of machine parts hacked to accept fighter LPC chips. The forge is poorly integrated with the hull's base power system, resulting in unreliable overall performance.

The Colossus heavy freighter formed the core of Domain frontier supply fleets before it was outmatched by the brutal economic efficiency of the Atlas superfreighter. Thicker than strictly necessary hull plating provides protection against cosmic hazards both natural and human.

–In-Game Description
Slow and lumbering, the Colossus Mk III's true strength lies in its thick armor, making it the hardiest of the pirate ships in battle. Its armor is perfect for wearing down enemy ships while providing fire support for allied ships through its ballistic guns and fighter drones.
Like the Valkyrie heavy transport, the Colossus Mk III's Ground Support Package system is ideal for planetary raids and invasions, increasing the effective strength of raids by 100.
0.9
Added Civilian-grade Hull (a correction not a nerf)
Removed Ill-Advised Modifications built-in hullmod
Added Converted Cargo Bay built-in hullmod
Added Ground Support Package built-in hullmod
0.8.1a-RC5

Only up to date for version 0.8.1a-RC5. It is likely still broadly correct but not verified for the most up to date data yet. Please double check the Version History
Community content is available under
CC-BY-SA
unless otherwise noted.