Champion-class Heavy Cruiser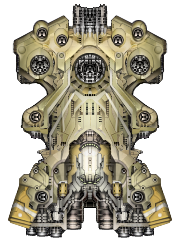 Logistical Data
| | |
| --- | --- |
| Recovery rate (per day) | 4% |
| | |
| --- | --- |
| Maintenance (sup/month) | 25 |
Combat Performance
Mounts
1x Large Missile
1x Large Energy
2x Medium Hybrid
8x Small Energy
Advanced Stats
| | |
| --- | --- |
| Recovery cost (supplies) | 25 |
| | |
| --- | --- |
| Peak performance (sec) | 480 |
The Champion-class heavy cruiser is a versatile warship featuring a range of powerful energy weapons; the crowning element is a heavy energy turret mounting, rare among midline ships. This offensive array is backed by a robust energy grid capable of supercharging the energy weapon loadout, increasing damage output to devastating levels. A heavy missile hardpoint complements the loadout by enabling the Champion to unleash a crippling strikes without taxing flux levels. The Champion is a solid and capable contender, able to face capital ships on the battle-line.
A relatively recent design, the Champion is a product of the historically recent "Cruiser School" naval revolution that never saw active service in the pre-collapse Domain Armada. Although prototypes were constructed and forge-ready specifications distributed to several battlegroups, the Champion was never cleared for active deployment due to an ongoing lawsuit between Altair Exotech and Orion Shipyards. Each megacorp accused the other of industrial espionage and inappropriately influencing the Armada officers overseeing the procurement process. The truth was more complex, inflaming longstanding rivalries in the officer corps as the investigatory committee called witness after witness. The Collapse prevented any sort of conclusive ruling from reaching the Persean Sector however, and now the entire matter is considered irrelevant. With the discovery of Champion plans on a Domain armaments courier, the warship was quickly put into service by the fleet of the Persean League, among others.

–In-Game Description
The Champion is a Midline heavy cruiser suitable for both long-range stand-off and short range close-quarters fighting. The placement of its weapon mounts and frontal shield favor head-on confrontations but leave its flanks and rear relatively vulnerable.
0.9.5
Introduced into the game.

Up to date for version 0.95
Community content is available under
CC-BY-SA
unless otherwise noted.