Brawler-class Gunship

Logistical Data
| | |
| --- | --- |
| Recovery rate (per day) | 8% |
| | |
| --- | --- |
| Maintenance (sup/month) | 6.0 |
Combat Performance
Mounts
2x Medium Ballistic
2x Small Universal
Advanced Stats
| | |
| --- | --- |
| Recovery cost (supplies) | 4 |
| | |
| --- | --- |
| Peak performance (sec) | 300 |
Typically deployed to beef up system police forces and port authority security, the Brawler-class frigate is a robust design which trades mobility for impressive firepower, armor, and a destroyer-grade power generator.

–In-Game Description
Brawler-class Gunship

Logistical Data
| | |
| --- | --- |
| Recovery rate (per day) | 8% |
| | |
| --- | --- |
| Maintenance (sup/month) | 6.0 |
Combat Performance
Mounts
2x Medium Energy
2x Small Synergy
Advanced Stats
| | |
| --- | --- |
| Recovery cost (supplies) | 4 |
| | |
| --- | --- |
| Peak performance (sec) | 300 |
This ship has been thoroughly overhauled by the Tri-Tachyon corporation. Tri-Tachyon compliant software patches have been installed which are fully integrated with TriPad (R) status monitoring protocols, high-spec flux conduit upgrades performed, and weapon attachment points refurbished for mounting advanced energy weapons.

Typically deployed to beef up system police forces and port authority security, the Brawler-class frigate is a robust design which trades mobility for impressive firepower, armor, and a destroyer-grade power generator.

–In-Game Description
Brawler-class Gunship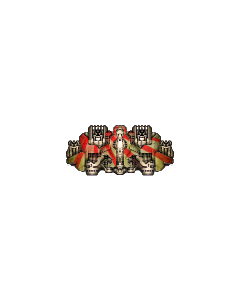 Logistical Data
| | |
| --- | --- |
| Recovery rate (per day) | 8% |
| | |
| --- | --- |
| Maintenance (sup/month) | 6.0 |
Combat Performance
| | |
| --- | --- |
| Flux capacity | 2,500 (-500) |
| | |
| --- | --- |
| Flux dissipation | 370 (+120) |
Mounts
2x Medium Ballistic
2x Small Universal
Advanced Stats
| | |
| --- | --- |
| Recovery cost (supplies) | 3 (-1) |
| | |
| --- | --- |
| Peak performance (sec) | 99 (-201) |
Fanatics of the Luddic Path have made this ship their own, stripping out all unnecessary trimmings and transforming it into a haphazard vehicle of holy war.

Typically deployed to beef up system police forces and port authority security, the Brawler-class frigate is a robust design which trades mobility for impressive firepower, armor, and a destroyer-grade power generator.

–In-Game Description
Notes
[
]
The Brawler is a midline frigate with considerable forward facing firepower & decent durability. Poor mobility, front-only shield and lack of turreted weapons can leave it vulnerable in solo action. It is often well suited to supporting a larger ship that desires additional medium level firepower & a bodyguard. Other Brawler variants have quite distinct differences and play styles.

The Luddic Path Brawler deserves special note as its Safety Overrides hullmod cannot be removed as normal nor is removed on restoring the hull, as other D mods are. Full Ordnance Points are still available so the player effectively receives a free Safety Overrides, a considerable boon if they wanted it anyway. The combination of Safety Overrides, Accelerated Ammo Feeder and generous OP allotment make this craft deceptively brutal once restored.

The Tri-Tachyon Brawler provides a more mobile platform with excellent access to two medium energy slots at a very economical logistics profile.

Change History
[
]
0.95a
Changed ship system to Maneuvering Jets (was: Damper Field)
Increased shield arc to 270 (was: 150)
Increased supply cost to 6 (was: 4)
Increased flux dissipation and capacity (200 -> 250, 2500 -> 3000)
0.9
Added built-in Insulated Engine Assembly
Increased OP to 60 (was: 50)
Changed standard variant to be long-range support
0.8a
0.8.1a-RC5
TT variant ship system changed from Damper Field to Plasma Jets
TT variant small universal mounts changed to small synergy mounts
0.8.1a-RC19
Accelerated Ammo Feeder: now reduces ballistic flux cost by 50% (was: 30%)
Damper Field: now reduces damage by 67% (was: 75%)

Up to date for version 0.95